Yorkes of Dundee Ltd is a second generation family run butchers established in 1985 and passionate about good quality Scotch Meat. We offer a combination of old-school Scottish cuts with modern quality standards producing traditional recipes, pies and a tasty deli selection. We pride ourselves on delivering exceptional Scottish produce at consistently affordable prices.

Mission Statement
"To continue to exceed customer expectations working with local suppliers to provide consumers with fresh, high quality local Scottish produce."
Frank and Grant Yorke
Company Directors

We supply pies to many football and ruby grounds up and down the UK as well as supply locally sourced Scottish produce to contract catering companies, hotels, pubs, farm shops and private schools.
As outside caterers we are available for functions and events. We do pig roasts, BBQs, buffets etc. We cater for weddings, shows, parties, bowling and football clubs and many more email a.yorke@yorkesofdundee.com for more information.
If you are interested in using us as your butcher then email  toni@yorkesofdundee.com

Provenance
We take great pride in sourcing our meat locally. We strongly believe you should be able to trust your butcher knowing where your meat comes from and be safe in the knowledge that it is reared and treated with care.
Yorkes is in the country of Angus and a short distance from Aberdeenshire where we are renowned for our Scotch Beef, Pork and Lamb.
Himalayan Salt Aged Beef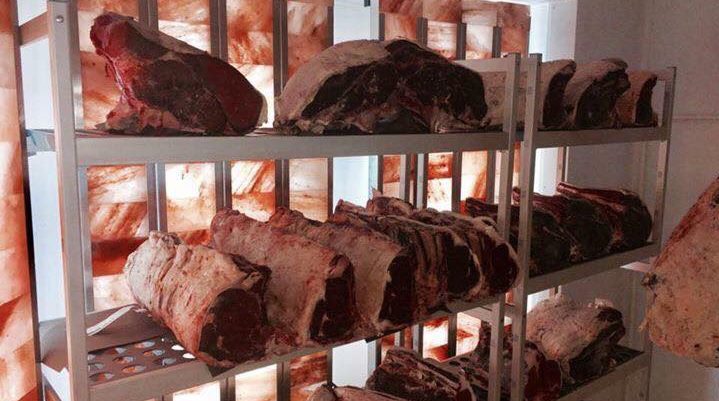 At Yorkes of Dundee we are always striving to get the best from our local Scotch Beef.
Our solution, to create a Himalayan Salt Chamber where our beef is matured on the bone for a minimum of 35 days, assisting the dry ageing process.
Helping to extract the moisture from the meat, allowing the meat to tenderise and the flavour to develop.
Call us now to order your Himalayan Salt Aged Beef, for the perfect dining experience.
Call Now
Inspiration
Bored of cooking the same things? Why not head over to our Inspirations page and try out some of our tasty recipes picked out from our partners over at The Scotch Kitchen. Here's a few to tempt your appetite.
Our Certification
Yorkes of Dundee Ltd are audited yearly and have been awarded with a CMI Due Diligence Standard Certificate for a consecutive number of years and have achieved the highest level of Gold for our tracability, operating, technical and hygiene standards assuring our customers receive genuine quality meat products in a safe condition.
Yorkes of Dundee Ltd are an aproved cutting plant under FSA guidelines (UK 1725EC). This ensures that our plant and staff are regularly audited and examined by meat veterinary inspectors.